Shell Rotella® Greases
Introducing Shell Rotella Greases, from the makers of Shell Rotella heavy duty engine oil, a leader in diesel engine oil for more than 40 years. Shell Rotella has developed a comprehensive line of lubricant grease products designed to protect and meet the challenges of your toughest jobs.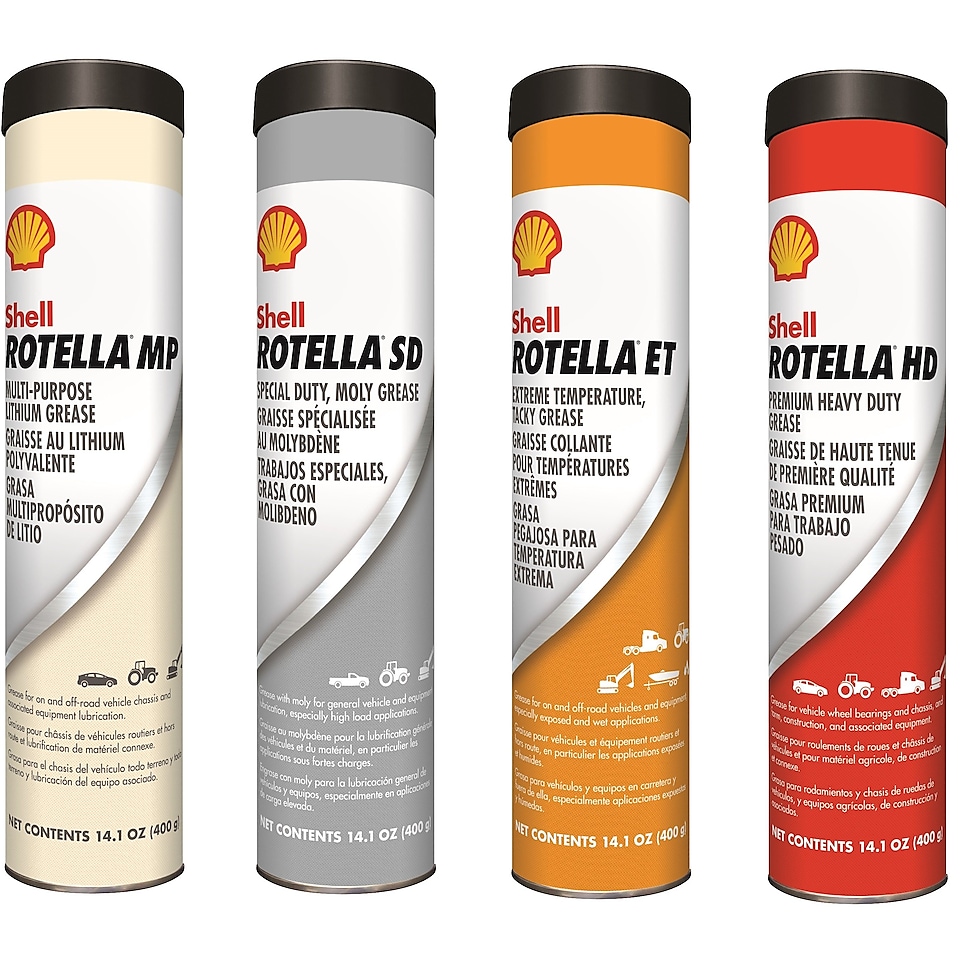 Shell Rotella Greases cover a wide variety of applications.  Additional information regarding each Shell Rotella grease product can be found below:
Shell Rotella MP Grease
High quality multipurpose, extreme-pressure grease based on a blend of high viscosity index mineral oils and a lithium hydroxystreate soap thickener and contain extreme-pressure and other proven additives to enhance their performance in a wide range of applications. 
Shell Rotella HD Grease
Red lithium complex, premium multi purpose grease with excellent high temperature, anti-oxidation, anti-wear and anti-wear corrosion properties.  Suitable for bearings operating at high temperature and under load such as disk brake equipped wheel bearings. 
Shell Rotella SD Grease
High temperature grease with molybdenum disulfide designed for lubrication of demanding applications in vehicles and equipment including high shock loads where rapid starts and stops may occur such as chassis points, sliding pins, trailer hitches and axle splines where shock loading is possible. 
Shell Rotella ET Grease
Lithium complex based on high viscous mineral oil for extra retention on exposed surfaces such as fifth wheel plates, springs, trailers, open pivot joints and water exposed equipment.  ET greases contain anti-oxidants, EP and wear preventive additions and rust inhibitors.   
Where to Buy
Now available at the retailers below.
Retailers Carrying Rotella Grease
Looking for Shell Lubricants for your business? We can help.
For technical questions, contact our Technical Help Desk at (800) BEST OIL or (800) 237-8645 Option 3, 1; or Email: shelltechnical-us@shell.com with complete Year/Make/Model information for a recommendation.
More in Shell ROTELLA® Products
Shell Rotella® T6 Multi-Vehicle Full Synthetic engine oil performs extremely well in diesel and gasoline engines, meeting both API CK-4 and API-SN standards and allowing mixed fleets to consolidate lubricants.
Shell Rotella® T5 Ultra 10W-30 Synthetic Blend heavy duty engine oil is designed for new on-highway diesel engines. It provides hardworking protection at a lower viscosity than CK-4 oils.
Shell Rotella® T5 Synthetic Blend products contain Triple Protection Plus™ technology (advanced additive technology plus synthetic base oils) to protect against wear, deposits, oil breakdown, and provide better low temperature flow.
You May Also Be Interested In
You can find Shell ROTELLA® products stocked at over 95% of major truckstops and installed at numerous truck service shops nationwide. Use our locator to find an installer or retailer nearest you.
We believe your hard work should be rewarded. So when it's time for your next Shell Rotella purchase, be sure to check here first for special offers that may be available.
Browse our lubricants and find out which is best for your business through our expert advice, support, and case studies.